Captain Jonathan Ruffin
A lifelong passion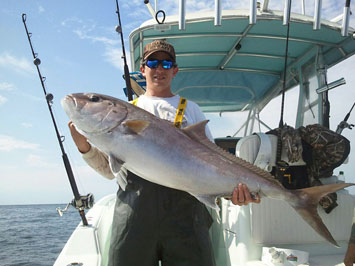 Born and raised in the New Orleans area, Captain Jonathan Ruffin grew up fishing all across southeast Louisiana. He mostly fished the inshore waters around Lake Ponchartrain with a few ventures offshore — those fishing trips sparking his passion for offshore fishing and charter fishing out of Venice, Louisiana.
After receiving a scholarship to play football at the University of Cincinnati, Jonathan left his beloved fishing to pursue his childhood dreams of playing football.
In college, Jonathan was an All-American and Lou Groza Award-winning kicker. After college, he played in various leagues including time in the NFL with the Pittsburgh Steelers and Dallas Cowboys. Most recently he played for the New Orleans VooDoo.
Offseasons for Jonathan have been spent back in the New Orleans area, fishing every chance he got.
For seven years, Jonathan has been running offshore boats and charter fishing out of Venice, La., sharing his passion for bluewater fishing. Jonathan is a detail-oriented fisherman whose knowledge and experience will help put you on the fish.